SNIC very happy with MAN Cromoman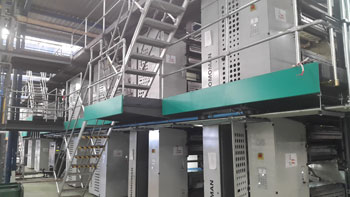 In early 2015 GWS Printing Systems installed a beautiful, six tower MAN Cromoman newspaper press at the Norman Society of Information and Communication (SNIC) in Rouen, France. The press has now been in production for a number of months and GWS caught up with the company's Managing Director and owner Mr Ellie. In an open interview he talks about his decision to buy this specific press, his faith in the newspaper industry and his feelings about the way GWS handled the project.
Q. Mr. Ellie when did you decide to replace your old web offset press?
A. We first started thinking about new equipment some years ago, when the PARIS-NORMANDIE newspaper was facing difficult times. In order to get back on track we felt it was a top priority to replace our two presses, which were over 40 years old. But we weren't sure if this was a feasible option.
Investing in new equipment would have been much too expensive and we weren't convinced this would be cost effective, especially with the current digital development. And buying used equipment can be a bit of an adventure.
Q. You decided to invest in new production equipment, despite the current status of the printed newspaper market. What were your reasons to do so?
A. We wanted to deliver a full color newspaper with good print quality to our customers. And also have the possibility to create new supplements and to print other products to reduce our overall cost price.
Q. And how did your customers react to the new version of their newspaper?
A. Our readers and advertisers like it a lot. They have certainly noticed the upgrade and we are receiving a lot of positive feedback.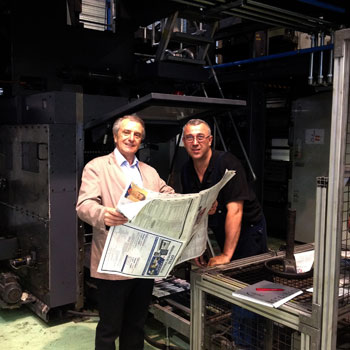 Q. It was of course also a big change for your own staff. How did they react to the new technology?
A. Our people were of course very much aware of the limitations of our old equipment. They were not able to print at high speeds, not able to print in full color and the presses required a lot of maintenance.
They were very happy with the decision to upgrade and have adapted well to the new equipment. They received extensive training on the six tower MAN Cromoman, which has helped them to quickly get used to the new press.
Our staff has been very cooperative and are also happy about the new opportunities.
Q. Does this new production equipment also give you new market opportunities?
A. Yes, it certainly does. Our new equipment has helped us to slow the downward trend of the printing market in our area. And advertisers appreciate how the new printing methods give their adds additional power and impact. As a result we have seen an increase in advertising revenues.
Q. What are the other benefits this machine provides to SNIC?
A. This new web offset press has helped to considerably improve the brand image for our company and its papers. Our subscribers, occasional readers, advertisers and staff are all very happy with the new possibilities.
And finally, as said previously, this new equipment allows us to create supplements, new types of publications and to print for external customers too.
Q. Evidently, you firmly believe in printed newspapers. How do you predict, for the coming years, the competition between printed newspapers and digital newspapers?
A. We believe the printed format will not disappear; it is very useful for its direct accessibility and it does not require any additional equipment to use (tablet, computer, etc.).
Moreover you can see a pattern in history: the radio was introduced in the 1920's, but has not replaced the newspaper. The TV was introduced in the 1950's, but has not replaced the radio or the newspaper either. To this day the TV companies actually use the printed media to publish their schedules. And today the internet co-exists with TV, radio and newspapers.
With this new machine, the quality of our printed newspaper is equal to that of a tablet. We use all printed and digital methods, including video.

Q. How did you know GWS Printing Systems?
A. GWS was introduced to us by Mr. Gaël Amic, whom I have known a long time for his excellent name and his skill. We have great confidence in him; he is a nice, honest, calm and competent man, who knows a lot about printing presses and the technology involved.
Q. Why did you specifically choose GWS Printing Systems as a partner in your project?
A. GWS is a company specialized in dismantling and reinstalling web offset presses; it acts all over the world (America, Europe, the Middle East, the Far East). Even if we had never worked with them, we would know how serious they are. We were certain that they would be by our side until the very end of the project. They offered us an all-inclusive package, all the way up to the moment that sellable copies started coming off the press.
And that's exactly what has happened. We have been impressed by their frankness, seriousness, their high level of professionalism in every field and for their full respect of the deadline, to the exact day, and exact price.
It is a remarkable team, very pleasant to work with and I would certainly recommend them to others. They completed the dismantling of the press in London, the shipping to France, the reinstallation in Rouen, the testing and the start-up within six months. That is really very well done for a project of this size.
We hope to work with them again in the future.