KBA Compacta 215 heading to Mexico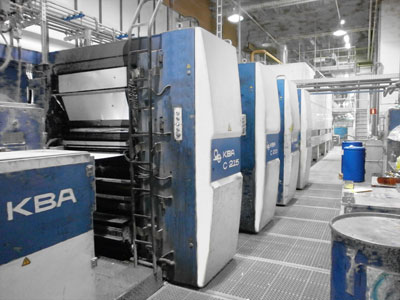 GWS is proud to announce the sale of another KBA Compacta 215 heatset press. This sale brings the number of C215 presses sold by GWS this year to the impressive total of three.
This time Mexican printer Centro Grafica Industrial signed a contract with GWS for the supply of a 578mm cut off C215. It concerns a 4-unit press with a combination folder capable of producing all folding options to produce high quality magazine and retail work.

GWS technical project manager Geert van der Putten: "The dismantling of the press at its current location in Finland will commence on the 12th of October, the press will sail to Mexico well ahead of the Christmas break". GWS has been contracted to deliver a turnkey project, including the services covering the dismantling, transport, installation and commissioning of the press in Mexico city.

"We are pleased to announce the sale of another press into Mexico, this time it concerns a commercial heatset press following sales of various newspaper presses to Spanish speaking countries such as Peru, Chile and Uruguay", says Jordi Segura, Managing Director at Barcelona based GWS Printing Systems Spain in charge of the Latin American market.

The KBA C 215 is planned to commence production during the first quarter of 2016.