KBA C215 heading to India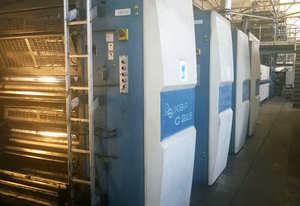 Bangalore based printer Geetanjali Graphics recently purchased a KBA Compacta 215 press from GWS Printing Systems of The Netherlands. The 578mm cut off press was acquired to extend their production capacity in an ever growing Indian market.
Fintan Planting of GWS: 'We are very happy that we managed to find the perfect fit for Geetanjali. This quality printer was looking for a machine with specific folding options to cater their market and we found them the right press at the right budget'.
The high speed 16-page commercial press has now been dismantled at its current location in Capetown, South Africa. As GWS' partner in this project a technical team from manroland Southern Africa has taken care of the dismantling, packing and transport to India.
Daniel Constandse, MD of manroland Southern Africa: 'We have a long-standing relationship with GWS and are pleased that we could work together with them on this project. We hope Geetanjali Graphics will enjoy their new press for many years to come.'
The KBA C 215 press is expected to arrive in India in the last week of July 2015.