Relocating a printing plant from Oslo to Jeddah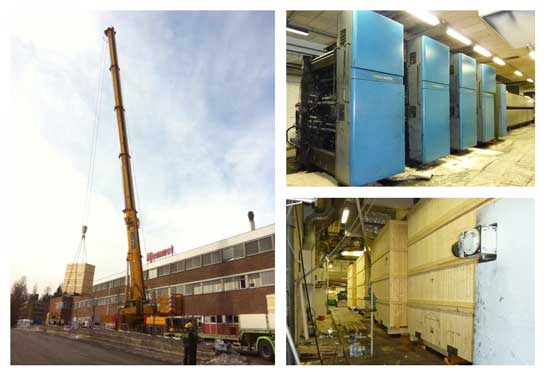 Moving a complete heatset printing plant from Oslo (Norway) to Jeddah (Saudi Arabia) is a logistical master piece. Madina Printing & Publishing MPPC has contracted the specialists of GWS Printing Systems to perform this feat, involving months of work and some 85 containers.
The relationship between MPPC and GWS goes back a number of years. The GWS sales and engineering specialists were asked to consult in a newly launched project at MPPC Target: the set up of a high quality web offset printing center incorporating one or two heatset presses for the production of retail print, brochures and magazines. The initial study took more than one year whereby the joint project teams of MPPC and GWS have studied various options and scenarios.
During the late summer of 2012, after completion of all project studies, MPPC gave green light on the project. At almost the very same time a Norwegian printer announced it would stop its heatset activities at its printing location in Oslo. The available equipment was a perfect match with the MPPC requirements, so MPPC quickly signed a deal with the Norwegian printer which included two Goss heatset presses, the entire pre press and mailroom systems.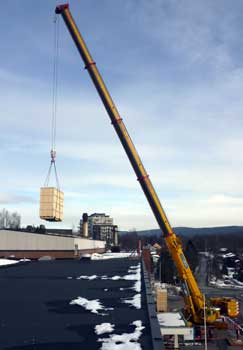 But securing the equipment was only a first step. All equipment - which needed some 85 containers - would need to be dismantled, properly packed, transported and re-installed in Jeddah. Moreover MPPC planned to do a number of modifications, amongst them an intensive modification job to all of the blanket cylinders of one of the Goss presses.
Specialists of GWS visited the site and did a detailed inspection of all the equipment. "The presentation of our report describing the results and recommendations of our inspection have probably been an important factor for MPPC in deciding to contract GWS", says Stefan van der Linden, Manager Services and Projects at GWS.
In early 2013 - following a long period of preparations - GWS Project Manager Jack Verlouw moved to Oslo for a stay that spanned four months. Soon after Verlouw's arrival a crew of GWS Machinery Care started the dismantling process, which was done in close consultation with Goss France.
At the time of writing this article all equipment has arrived in Jeddah and re-installation will soon begin.

Project facts:
* The temperature in Oslo was about -16 degrees Celsius, while Jeddah had +35 degrees Celsius; a difference of a full 50 degrees.
* One machine had to be lifted through the roof of the Norwegian factory, requiring a 500 ton crane.
* The splicer had to be fully stripped to exit the factory.
* Apart from the presses three containers of spare parts, the complete Agfa pre-press and the full Ferag post-press were shipped.
* The entire transport required more than 60 40 foot High Cube containers, two open top containers, eight four meter high crates weighing more than 22 ton each, two large crates of over 14 meters in length containing the dryer and twelve other crates.
* Shipment from Oslo to Jeddah took about six weeks including custom clearance.