GWS Round-up for WAN IFRA 2013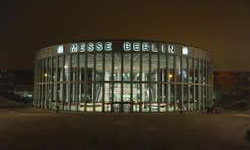 The newspaper industry is rapidly developing towards digital solutions. Publishers are desperately looking for ways to grab the attention of younger readers. These are healthy and good developments, to which our industry will have to respond. The yearly WAN-IFRA exhibition, held in Berlin last month, painted a clear picture of an industry in the middle of a transition.
The exhibition was noticeably than it was only a few years ago. But it was quite apparent that gathering and publishing news is still a product that is in high demand. As far as GWS is concerned this also still applies to the printed newspaper.
This industry has been subject to changes over many years no and GWS has always been able to adapt to this need for change. In the eighties there was a need for suppliers who were specialized in delivering large, revised printing presses. But now publishers are looking for consultants, brokers and contract-partners for all imaginable types of technical challenges.
'At GWS we have the knowledge to cater to these new needs', says Commercial Director Eric van Kessel. 'In talks with customers during the exhibition the requirement for a partner that could offer a wide range of services kept coming up. An excellent example of this is a turn key project GWS is currently coordinating at a leading newspaper printing company in Botswana. We are not only delivering the press, but are also consulting on the layout of the plant, on the acquisition of ancillary equipment and on the logistical post-press processes.'
And GWS had a good run at the WAN-IFRA exhibition. A customer from Switzerland ordered a complete Ferag Mailroom solution, including Ferag cutting drums. A leading printer from Columbia contracted GWS on a consultancy job. The GWS flexweb solution was presented at the show and was very well received by newspaper printers. This product allows printers to produce different sizes newspapers on regular fixed size, double wide presses. For more information and a video of this product, please click here.