The GWS group
About
GWS Printing Systems is a global supplier of premium webfed and sheetfed offset presses, auxiliaries and related systems to the printing industry. With over 30 years of experience the company offers services for engineering, project management, installation, training and after-sales service. > more
News
First web offset press for Sahara Printing, Egypt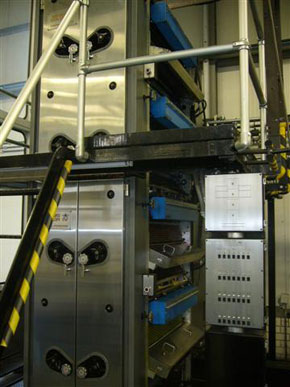 Egyptian printing company Sahara Printing has recently purchased its very first web offset press. The company will buy the press from Dutch company GWS Printing Systems as part of a complete turn-key project, which also includes removal, transport, commissioning and training. GWS has a strong reputation in Egypt and has shipped over 100 printing couples to this country over the past two decades. Of crucial importance in Sahara Printing's decision making process was the service minded and responsible approach of GWS, who strive to deliver a running press of high quality. > more
Search our list
Put a keyword in the following box and press 'search'.
GWS Newsletter
KBA Continent (2008)

578 x 1.000mm book press / semi commercial
As owners, we offer the following KBA CONTINENT book press/semi commercial press. Since being installed in 2009 the press has only some 7.000 running hours and is still in mint condition.
GWS flexweb

variable widths on double wide presses
With the GWS flexweb it is possible to print variable web widths on a fixed width, double wide newspaper press. Now you can print different size newspapers without large investments, all thanks to a retro-fit module that can be installed into your existing press structure.