The GWS group
About
GWS Printing Systems is a global supplier of premium webfed and sheetfed offset presses, auxiliaries and related systems to the printing industry. With over 30 years of experience the company offers services for engineering, project management, installation, training and after-sales service. > more
News
GWS on national television station RTL 7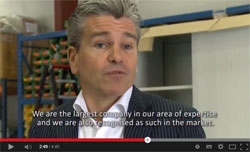 GWS Printing Systems was featured on Dutch national tv station RTL 7 last week. A crew from the program Business Channel visited our head quarters in Waalwijk and took the company tour. > more
Search our list
Put a keyword in the following box and press 'search'.
GWS Newsletter
KBA Continent (2008)

SOLD!
Sorry this machine has been sold, but perhaps we can help you with a different machine. Please feel free to contact us with your requirements.
GWS flexweb

variable widths on double wide presses
With the GWS flexweb it is possible to print variable web widths on a fixed width, double wide newspaper press. Now you can print different size newspapers without large investments, all thanks to a retro-fit module that can be installed into your existing press structure.